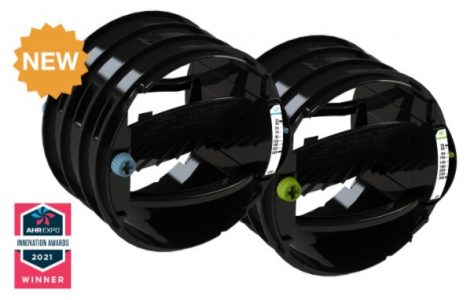 The 2021 AHR Expo supposed to be held in Chicago early next year, was cancelled due to the coronavirus pandemic. However, the organiser's annual awards event, which usually occurs at the same time as the show, still took place! This annual competition honors the most inventive and original products, systems and technologies showcased at the AHR Expo. Aldes' Vertical Fan-Coil Unit was also amongst the finalists of the Ventilation Innovation category last year.
Submissions were collected over the summer and then reviewed by a panel of third-party judges made up of distinguished ASHRAE members. The competitors are evaluated based on overall innovative design, creativity of the product or service offered, application, as well as value and market impact. "We continue to be surprised by what the innovators in this industry bring to market," said Mark Stevens, Show Manager. "Despite the challenges 2020 has presented, we are committed to recognizing the incredible innovators in our industry."
The CAR3® constant airflow regulators feature a state-of-the-art design with industry exclusive dual-side airflow adjustability and greater airflow ranges for a variety of applications. The patent pending airflow technology allows you to set or change the airflow quickly, in supply or exhaust applications, without removing the CAR3 from the duct. The CAR3 solely operates on duct pressure and requires no external power supply or sensors, and will be rated for use in air temperatures ranging from -25°F to 140°F (-32°C to 60°C). Each regulator features a dual-side adjustment dial to allow for changes in airflow setpoint while installed in either the supply or exhaust direction without removing the regulator from the duct. The constant airflow regulator is enhanced with antimicrobial, anti-static, and flame-retardant additives for increased durability.
Learn more about the AHR Expo 2021 Innovation Award Winners and read the Official Press Release.
Read more about an exciting project featuring the CAR3.
Visit https://aldes-na.com for more information about the CAR3 or contact your Aldes sales representative.