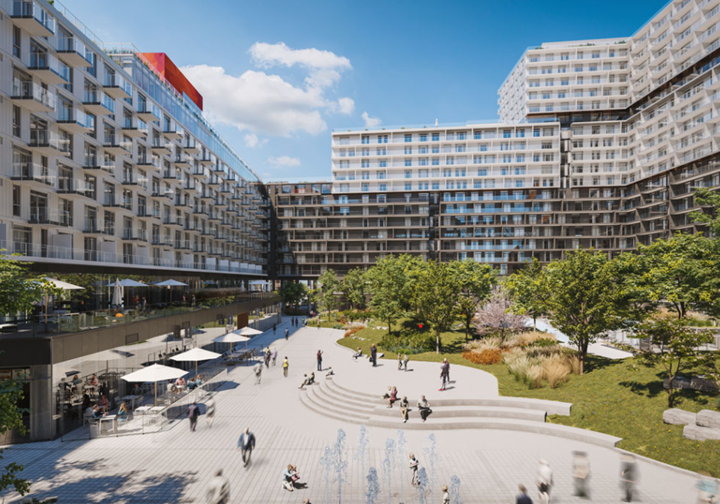 This innovative urban hub in the heart of Laval installed Light Commercial & InspirAIR ALDES H/ERV units.
Espace Montmorency is a 1.3-million-square-foot multifunctional development offering a range of services in an urban environment. Aspiring to LEED Gold certification for the building, the project is not only on the cutting edge of urban design, but also respects the environment. This mixed-used project offers offices, boutiques, cafés, restaurants, a hotel, residences, and welcoming green spaces.[1] Espace Montmorency broke ground in spring 2019 and is slated for completion in fall 2022.
Already quite popular, this destination gathers seniors, students, workers, foodies, and professionals in a dynamic and inclusive environment. To take advantage of this unique living space, Groupe Sélection has decided to move its head office to Espace Montmorency. Groupe Sélection celebrated its 30th anniversary recently and is now Canada's largest private sector company in the retirement community sector.
This state-of-the-art city project includes many ALDES units across its 4 main tours and commercial and residential spaces, including more than 675 E80-HF units. The energy-efficient InspirAIR® Compact is a balanced in-suite ventilation solution ideal for multi-unit residential buildings. The E80-HF delivers superior heat recovery and a latent transfer of over 65% in a compact, easy-to-install package only 9 inches (230 mm) in height. Easily concealed in a drop-ceiling or soffit, this unit has been thoughtfully engineered for apartments, condominiums, and other dwellings. The E80-HF includes Aldes' exclusive high speed on-demand boost for maximum ventilation, and FLEXControl, electronic calibration that eliminates the need for balancing dampers and maximizes overall efficiency.
The H1100, is also among the ALDES Light Commercial HRV units that help keeping the environment to stay clean, healthy and efficient in this modern city centre. The H1100-N heat recovery ventilator provides fresh air with high-efficiency energy recovery up to 1245 cubic feet per minute (585 L/s). The H1100-N comes with AHRI Certified aluminium or polypropylene heat-recovery cores depending on your specific needs.
Aldes representative QAT, facilitated the sale of Aldes products to this innovative structure.