Deliver Healthy Air and Optimize Efficiency with Variable Speed Ventilation!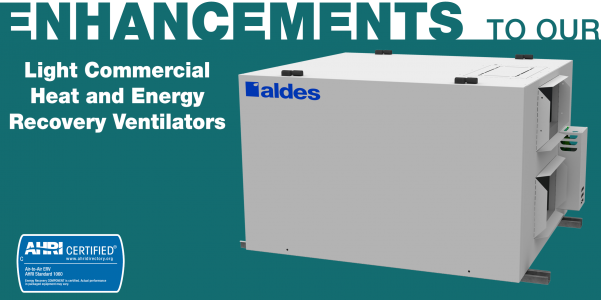 0-10V inputs to continuously adjust the speed of the H/ERV. No more over- or under-ventilating providing the optimal amount of fresh air for any occupancy situation.
Wire the H/ERV directly to the building electrical main using our terminal block – no more power cords with plugs that need a separate electrical box to be installed.
Aldes is pleased to announce our Light Commercial H/ERVs can now be wired for continuously variable ventilation using one or two 0-10V inputs (one for the supply motor and one for the exhaust motor) which works with both EC and AC motors.  Or, you can still wire the units with the 24V dry contacts as well as Aldes wall controls – both options are supported on the same H/ERV.
In addition, all the H/ERVs now have a terminal block for the power connection, instead of a power cord with plug.  This makes it easier and saves the electrician time wiring the system to the building's power supply and complies with electrical codes in North America.
The new models have new part numbers, to distinguish them from the previous units.  The new model numbers are the same as the old ones, with the addition of "-N". For example, the E650L-Fi-EC becomes E650L-Fi-EC-N.
In addition, the -Ri models for recirculation defrost are no longer available. To order H/ERVs with recirculation defrost, simply add the appropriate recirculation kit to the order:
P/N 683900: Recirculation defrost option for 650 models
P/N 683950: Recirculation defrost option for 1100 models
P/N 683960: Recirculation defrost option for 1800 models
The existing models with power cords will continue to be available until
June 30, 2020.
Please do not hesitate to contact Aldes with any questions.