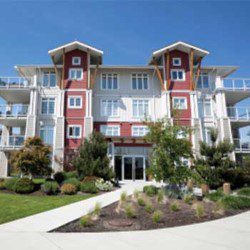 Aldes Central Ventilation Systems, Constant Airflow Regulators (CAR), and dryer booster fans are used to provide quality ventilation in many apartment buildings and low-rise condominiums. Aldes patented Zone Register Terminals (ZRT®) are designed to introduce flexibility and dynamic control to central ventilation systems. Our InspirAIR™ Compact heat and energy recovery ventilators are sized just right for multi-family dwellings as well.
See our Multi-Family Applications guide or brochure for an at-a-glace overview of products appropriate for multi-family buildings.
Please see our featured projects map to see a sampling of the multi-family projects in which Aldes products are used.