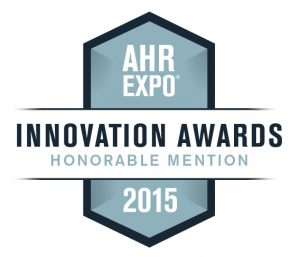 American Aldes' ZRT-PDIL received a 2015 AHR Innovation Awards Honorable Mention in the Ventilation Category. All Innovation Award winners will be honored during the AHR Expo, January 26-28, 2015, in Chicago. American Aldes received the Innovation Award in 2013 for the Zone Register Terminal ZRT-2 and Honorable Mention in 2014 for the VentZone® Zoned IAQ with Heat Recovery Kit.
Be sure to visit Aldes at Booth #4110.
The ZRT-PDIL Parallel Damper In-Line Zone Terminal combines low-flow IAQ or make-up air and on-demand high-flow spot ventilation, replacing individual fans or VAV terminals. The patent-pending ZRT-PDIL is a two-position pressure-independent terminal with control damper and maximum and minimum set points. The set-points can create a turndown ratio up to 98%, and the ZRT-PDIL uses zero power in the minimum mode.

Learn more about the ZRT-PDIL.
The AHR Innovation Awards recognize products that best help HVAC&R practitioners provide safer, healthier, more efficient and/or more comfortable environments. The annual competition is sponsored by ASHRAE, the Air-Conditioning, Heating, and Refrigeration Institute (AHRI) and the International Exposition Company (IEC). A first-place winner is named in 10 categories, and the Product of the Year will be announced on Tuesday, January 27, 2015, at 1 p.m. Entries were received and judged by panels of ASHRAE members. The criteria are innovation, application, value to the user and market impact.
View a complete list of AHR Innovation Award Winners.