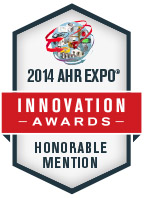 American Aldes' VentZone® Zoned IAQ with Heat Recovery Kit received Honorable Mention from the 2014 AHR Expo Innovation Awards in the Ventilation Category. The AHR Expo, where all Innovation Award winners were honored, took place January 21-23, 2014, in New York City. American Aldes received the Innovation Award in 2013 for the Zone Register Terminal ZRT-2.
The AHR Innovation Awards recognize products that best help HVAC&R practitioners provide safer, healthier, more efficient and/or more comfortable environments. The annual competition is sponsored by ASHRAE, the Air-Conditioning, Heating, and Refrigeration Institute (AHRI) and the International Exposition Company (IEC). A first-place winner was named in 10 categories. Entries were received and judged by panels of ASHRAE members. The criteria are innovation, application, value to the user and market impact.
American Aldes VentZone® Zoned IAQ with Heat Recovery Kit is a combination residential heat recovery ventilator (HRV) and zone register terminal (ZRT). The HRV transfers sensible energy from stale exhaust air to fresh supply air while the ZRT provides continuous IAQ exhaust and on-demand boost exhaust. The VentZone® kit is a residential heat recovery system that is can be used for both whole-house IAQ ventilation and as a central bath exhaust that provides pressure-independent zoned exhaust control. VentZone® Zoned IAQ with Heat Recovery is the only HRV system on the market that can effectively and independently boost exhaust airflow on a zone-by-zone basis, while potentially reducing the size of the central exhaust ventilator and the number of exhaust duct penetrations. Learn more about the VentZone® Zoned IAQ with Heat Recovery Kit.
American Aldes VentZone® Systems bring demand-control ventilation systems to residential applications, saving energy and reducing overall equipment costs.