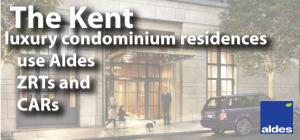 New York City's Upper East Side is known for its luxury high rises, stylish boutiques, and upscale restaurants. One of newest additions is The Kent, an elegant 30-story, 83-unit condominium residence just a few blocks from Central Park. Among the amenities are an indoor pool and sauna, fitness center, sound lounge, canine spa, and zoned ventilation with centralized heating and cooling systems that include American Aldes Zone Register Terminals (ZRTs) and Constant Airflow Regulators (CARs).
Aldes ZRTs provide on-demand boost airflow, typically used in bathrooms and laundry rooms to exhaust humidity and odors. Aldes CARs automatically regulate airflow in duct systems to constant rates. These ZRTs and CARs are frequently the preferred ventilation products for multi-family buildings such as apartments and condominiums for simplicity and performance.
Architect Beyer Binder Belle has offices in New York City and Washington, D.C. and have been involved in such high profile projects as Grand Central Terminal, Rockefeller Center, the Apollo Theater. New York-based Interior designer Champalimaud has won awards for projects across the globe. Developer Extell's full service real estate development team has nearly three decades of experience in New York and beyond.
The Kent topped out earlier this year and is expected to be complete in early 2018. The two to five-bedroom condominium residences are expected to bring $2.4M to over $20M each.
Aldes ZRTs and CARs have been installed in hundreds of apartments, condos, and other multifamily buildings across the United States and beyond. In New York City alone, manufacturer's representative A.D.E. Systems has facilitated the sale of Aldes products in The Enclave at Cathedral, Citizen 360, 53w53, 520 Park Avenue and many others in the Big Apple. To see other projects where Aldes products have recently been installed, please visit our Featured Projects Map.