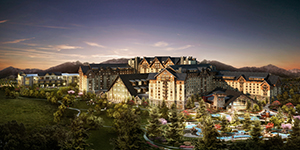 American Aldes, through its partnership with Long Building Technologies, has sold 1,500 Zone Register Terminals and 1,500 Constant Supply Registers to be installed in the Gaylord Rockies Resort and Convention Center in Colorado, scheduled to open in 2018.
Aldes Zone Register Terminals (ZRTs) provide on-demand boost airflow, typically used in bathrooms and laundry rooms to exhaust humidity and odors.  When combined with an optional airflow regulator, they can also be used for continuous low-volume airflow to maintain healthy indoor air. Aldes Constant Supply Registers (CSR) include an airflow regulator that compensates for changes in duct pressure caused by thermal stack effect and eliminates the need for on-site balancing. These ZRTs and CSRs are frequently the preferred ventilation products for high-rise buildings such as apartments, condominiums and hotels.
Gaylord Hotels, a part of Marriott International, Inc., are well-known for their sprawling resort and convention centers and "everything in one place" concept. In addition to luxurious guest rooms, these properties include retail shops, spas, outdoor lounges, restaurants, fitness centers, pools, and a variety of meeting spaces, all in spectacular settings.
Gaylord Rockies Resort and Convention Center is currently under construction and will open in late 2018. It will be the fifth Gaylord Hotel in the United States and will feature 1,507 guest rooms, 485,000 square feet of meeting space, 8 restaurants and much more.
American Aldes has a longstanding relationship with Marriott hotels, and has provided engineering solutions to the hotel industry that come with green savings. Marriott's global design standards, which incorporate Aldes products, was key to securing this sale. "The majority of Marriott hotels that have been built in the United States over the past several years have used Aldes products because of the relationship we've built with them and the benefits they see in energy efficiency and healthy indoor air quality," said Jim Jacobson, Strategic Account Sales Manager at American Aldes.
Long Building Technologies, Inc. is a manufacturer representative of HVAC equipment as well as a full service building automation, security, and mechanical services company.
Marriott International, Inc. is the world's largest hotel company based in Bethesda, Maryland, USA, with nearly 6,000 properties in 120 countries and territories. Marriott operates and franchises hotels and licenses vacation ownership resorts. Gaylord Hotels are among the company's 30 leading brands.