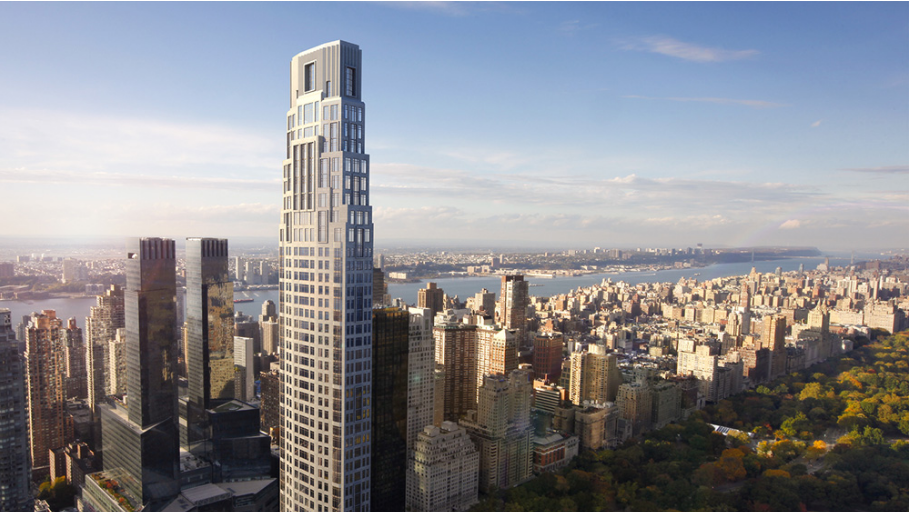 There's a new building currently on the rise in New York City's Midtown at 220 Central Park. When complete later this year, it'll soar 66 stories, house 118 luxury condominiums, and top out at an impressive 950 feet tall, making it one the tallest residential buildings in the United States. As most mechanical engineers and HVAC contractors know, tall buildings come with big a ventilation challenge known as stack effect. Residents at this high rise won't have to worry though, American Aldes Constant Airflow Regulators are already part of the building's ventilation system that eliminates stack effect and maintains healthy indoor air quality.
What is stack effect? Tall building ventilation systems can become severely out of balance due to outdoor pressure differences. The result is higher airflow at the top levels and stagnant air on lower floors. Stack effect can also cause cross contamination, meaning stale air is drawn from one floor and forced back into another. Balancing airflow to keep each floor at a constant, precise airflow can be extremely challenging, labor-intensive and expensive. Constant Airflow Regulators are self-balancing and correct stack effect by automatically adjusting to the changes in static pressure so that energy is not wasted and optimal indoor air quality is maintained. For a more comprehensive look at American Aldes' solution to stack effect, see our application guide.
220 Central Park South, owned by Vorando Realty Trust and designed by architect Robert A.M. Stern, is expected to top out at 950 feet. By comparison, One57 (also in NYC) currently ranks 2nd place at 1,005 feet while 70 Pine Street (NYC) stands at 952 feet and ranks 3rd.
Other recent projects in New York City that include American Aldes Ventilation products are W57 Durst, 432 Park Avenue, The Enclave at Cathedral, One Riverside Park, 111 Murray, 160 Leroy, and dozens of other properties in New York City and New Jersey.
Later this year, American Aldes Constant Airflow Regulators will be installed at 53W53—also known as MoMA Tower—which will rise 82 stories and join the ranks of New York City's tallest residential buildings.
About American ALDES
American ALDES is the premier manufacturer of ventilation products and systems for homes, multi-family dwellings, hotels, schools and numerous other commercial applications. Products are designed for superior airflow control, energy-efficient performance, and a healthy indoor environment.
American ALDES is a based in Florida and is a subsidiary of the ALDES Group, an international, family-owned group of more than 1,300 employees and 17 subsidiaries in 13 countries.