Get inspired–and inspire confidence in your customers–with our newest line–InspirAIR Commercial line of indoor and outdoor heat and energy recovery ventilators from Aldes!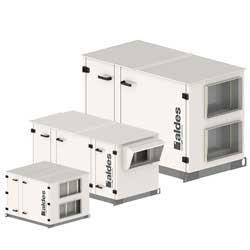 The InspirAir Commercial H/ERV's New Features:
Air exchangers with Enthalpy Wheels and EC Motors for 500-4000 CFM–and with smaller cabinets than the current Low Profile series!
Bypass Damper option for operation in Economizer Mode, without needing to connect additional ducts or components outside the units.
Bigger airflow ranges for each model, allowing you to maximize heat-recovery efficiency. For example at 1500 cfm, you can choose between three models (P15, P20 and P30) depending on your target efficiency requirements.
Standardized dimensions for the cabinets and extensions for bypass channel and pre-and post-heating coils.
For more information including specification sheet, Selector software and how to buy visit https://www.aldes-na.com/commercial-product-category/heat-energy-recovery/
American Aldes is the premier manufacturer of ventilation products and systems for homes, multi-family dwellings, hotels, schools, and numerous other residential and commercial applications.  From automatic airflow controls to advanced heat and energy recovery ventilators, American Aldes ventilation products can be found in tens of thousands of high-performing homes and buildings across the United States. #healthyliving