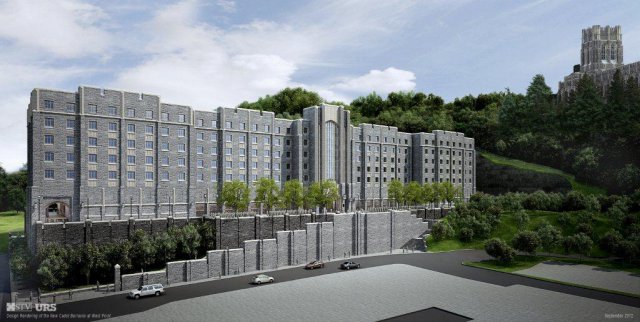 The Benjamin O. Davis barracks at West Point Military Academy is scheduled for completion in spring 2017 and will include nearly 900 American Aldes Constant Airflow regulators. The sale was secured by A.D.E. Systems, Inc.
Constant Airflow Regulators automatically regulate airflow in duct systems to constant levels. The passive control element responds to duct pressure and requires no electric or pneumatic sensors or controls. The CAR compensates for changes in duct pressure caused by thermal stack effect and provides a low-cost solution to balancing forced-air systems, eliminating the need for on-site balancing. CARs are frequently specified for many different applications, including multi-level buildings such as military barracks.
Davis Barracks is being designed and constructed by Army Corps contractor Walsh Construction Company of Chicago and its designer, Clark Nexsen. The barracks will be 287,000 square feet across six floors. Five of these floors will accommodate 130 Cadets in two-person rooms. The entire barracks will provide living space for 650 Cadets. Cadets will be provided with latrines and showers, a laundry area, day rooms, office areas, study and collaboration rooms, trash and recycling areas and offices and storage rooms.
Unlike the other buildings constructed at West Point, the barracks will have energy efficient features that will save taxpayers approximately $44,000 annually. It is anticipated that these features will help the building qualify for Leadership in Energy and Environmental Design (LEED) Silver certification.
Named after Benjamin O. Davis, the only black cadet at the academy in 1932, became one of the academy's most accomplished graduates, commanded the all-black Tuskegee Airmen during WWII, retired a three-star general in 1970, awarded a 4th star in 1998. Davis passed away in 2002.
American Aldes and A.D.E. Systems, Inc. have teamed up on a number of projects in recent years in the New York and New Jersey areas, including the Hilton Garden Inn on Park Avenue in Midtown New York, the RIU Plaza, 520 West 28th, the Visionaire Building, 50 West Street, 30 Park Place, 260 Park Avenue South, Greenwich Lane Complex, 313 West 37th Street, 111 Murray, 432 Park Avenue, The Enclave at Cathedral, One Riverside Park and dozens of other properties in New York City and New Jersey.