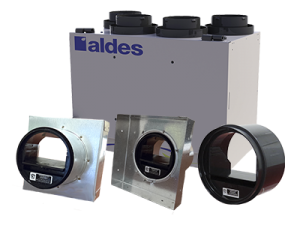 American Aldes proudly introduces several new products for the 2013-2014 catalog year. These products represent American Aldes' relentless commitment to providing sustainable, innovative ventilation solutions for residential, multi-family, and commercial buildings.
8 new Zone Register Terminals (ZRT) models, in addition to our award-winning ceiling-mount models. Now there is a ZRT for every application.
New Low-Pressure Constant Airflow Regulators (CAR-LP-II) for use in static pressure ranges of 0.1-0.42 in. w.g.
17 new CAR-II products and assemblies.
71 new HRV/ERV Models comprise our standard residential, light commercial, standard commercial, advanced commercial, and low-profile commercial ranges.
7 new Specialty HRV/ERV models, including high-performance HRVs and the IQ-VFC Vertical Fan Coil ERV.