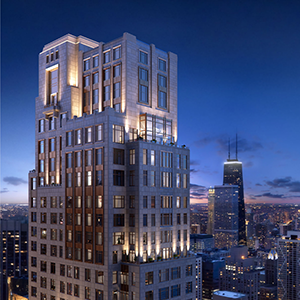 If you enjoy strolling along Lake Shore Drive and East Grand Avenue in Chicago, keep a lookout for a brand-new luxury residence claiming its spot along the skyline near the famous Navy Pier. One Bennett Park, designed by Robert A.M. Stern Architects, will house 69 condos, 279 apartments and will rise 70 stories.  American Aldes, through it's partnership with Air Products Equipment, has sold more than 200 Zone Register Terminals for this project so far.
Aldes Zone Register Terminals (ZRTs) provide on-demand boost airflow, typically used in bathrooms and laundry rooms to exhaust humidity and odors.  When combined with an optional airflow regulator, they can also be used for continuous low-volume airflow to maintain healthy indoor air. These ZRTs  are frequently the preferred ventilation products for high-rise buildings such as apartments, condominiums and hotels.
​​​​​​​​Related Midwest, the Chicago office of Related Companies, is a developer of luxury condominium and rental homes, master-planned, mixed-use, and affordable housing. The residences at One Bennett Park will have views of Lake Michigan, the Chicago River and the city skyline. It is expected to be complete in 2019.
To get a look at the progress, check out the time-lapse YouTube video below showing one year of construction in just under a minute.