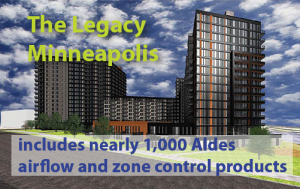 Take a drive along the Mississippi River in the Mill District of Minneapolis and you'll see one of the city's largest developments underway, The Legacy Minneapolis. The 374-unit condo development borders Gold Medal Park and is spread out over 3 connected sections; a 14-story tower, and 8-story tower and a 17-story tower. The staggered design is intended to visually separate what would have otherwise been one large tower per the original building plans. Inside, American Aldes Zone Register Terminals (ZRT) and Constant Airflow Regulators (CAR) will help maintain energy-efficient, effective airflow throughout the building to each residence.
Aldes ZRTs provide on-demand boost airflow, typically used in bathrooms and laundry rooms to exhaust humidity and odors.  Aldes CARs automatically regulate airflow in duct systems to constant rates. These ZRTs and CARs are frequently the preferred ventilation products for multi-family buildings such as apartments and condominiums for simplicity and performance.
Shamrock Development—the company spearheading The Legacy Minneapolis—is no stranger to the city. Shamrock has developed over 5,000 lots over the past 30 years throughout the metropolitan area, with the late Jim Stanton at the helm. Mr. Stanton passed away in June, 2017. The building has been designed with an eye to providing residents with common spaces and a sense of community, including roof terraces, exercise space, a dog run, rain garden, pool, spa, roof deck with lawn bowling, fire bowls and gas grills. It is expected to open in fall 2018.
Aldes ZRTs and CARs have been installed in hundreds of apartments, condos, and other multifamily buildings across the United States and beyond. In Minneapolis alone, Aldes products have been installed in JW Marriott Minneapolis Mall of America, Pentagon Apartments, The Bridges, Radisson Blu Minneapolis, 4 Marq and others. Please visit our Featured Project Map to learn more.