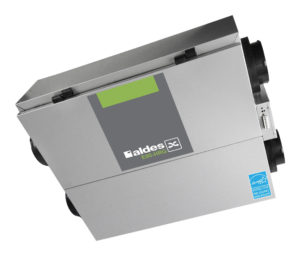 American Aldes is pleased to announce the refreshingly new InspirAIR® Compact additions to our lineup of heat and energy recovery ventilation systems. Sized just right for smaller living spaces like condos, apartments, or dorms, the InspirAIR® Compact's two sizes, deliver between 80 and 130 CFM of fresh, filtered air for all occupants to enjoy.
In addition to the highly successful 130 range, the newest InspirAIR® Compact 80 range includes the first in-suite air exchanger to offer an automatic free cooling economizer that saves energy by using cool outdoor air to help reduce the demand for air conditioning during spring and fall. Truly a breath of fresh air!
The newest 80 range consists of three models: the E80-HRG ERV offers ENERGY STAR® performance using Aldes' High Latent Transfer core technology, requires no drain, and includes the automatic free cooling mode.The H80-HF (HRV) and E80-HF (ERV) deliver healthy fresh air with superior energy efficiency at an even more economical price.
Advantages of InspirAIR® Compact include:
• Balanced in-suite mechanical ventilation that meets the ASHRAE 62 Standard.
• 9″ height (9 1/2″ for the 130 range) easily fits above suspended ceilings.
• Up to 73% sensible recovery efficiency with Aldes' HLT core – and no drains required!
• Exclusive free cooling economizer option (E80-HRG only)
• Quiet operation, almost unnoticeable to occupants.
• Unique door design gives easy access to washable filters.
The InspirAIR® Compact 80 and 130 are now available for sale. American Aldes can also provide you with best practices for ventilating multi-unit residential buildings.The benefits of in-suite compartmentalized ventilation definitely make the InspirAIR® Compact the new industry leader!