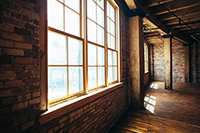 The former Deitz lantern factory in Syracuse, New York is being transformed into upscale loft living and commercial space with a total of 208,000 square feet. The adaptive reuse project will also include an American Aldes advanced commercial energy recovery ventilator to maintain healthy indoor air quality.
The Aldes CW10000e is among one of the company's lineup of standard commercial energy recovery ventilators. In the heating season, heat recovery ventilators (HRV) and energy recovery ventilators (ERV) draw in fresh air from outside while stale, humid air is exhausted. As the fresh and stale airstreams pass though the unit's core, the fresh air is tempered with heat recovered from the exhaust air. In the cooling season, fresh outdoor air is cooled by the air-conditioned exhaust air. An ERV will also transfer moisture to improve comfort. This exchange reduces the cost to heat and cool the building while providing healthy indoor air quality. These commercial units are a popular choice for retail, industrial, educational and multi-family buildings.
Owners Larry Losty, Jr. and son-in-law Matthew Paulus anticipate a July 2017 opening for the building at a total cost of just under $20 million. When it opens, it will be the first time the building will be used as living space. Over the past century it has been a cabinet maker's shop, a lantern company, an office furniture retailer, and more recently has been home to a handful of small businesses on the first floor.
The renovated building will be home to Deitz Lofts, a nod to the former lantern factory owner Robert Edwin Dietz. The historic mixed-use building will have 92 modern luxury lofts plus 35,000 feet of commercial space and will preserve some of the building's legacy, with exposed brick walls, tin clad fire doors, and wooden beams.
Guckian Energy Systems, who represents American Aldes ventilation products in portions of New York, secured the sale for this project.
About American ALDES
American ALDES is the premier manufacturer of ventilation products and systems for homes, multi-family dwellings, hotels, schools and numerous other commercial applications. Products are designed for superior airflow control, energy-efficient performance, and a healthy indoor environment.
American ALDES is a based in Florida and is a subsidiary of the ALDES Group, an international, family-owned group of more than 1,300 employees and 17 subsidiaries in 13 countries.