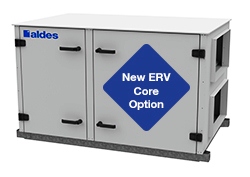 Aldes is pleased to announce the launch of several highly anticipated options for the Aldes Standard Commercial HRV/ERV Range:  a new high-latent-transfer enthalpy core, EC motors, and expanded frost control and heating options. These additions increase efficiency while maintaining cost-competitiveness.
The foremost addition is a brand-new recovery option for all Standard Series ERV models: the High-Latent-Transfer Enthalpy Core. The HLT core transfers sensible and latent energy at some of the highest efficiencies available in the industry.
In addition, the range now boasts the choice of high-quality electronically commutated (EC) direct-drive fans, which deliver energy savings along with 500-4000 CFM of air. Enhanced pre- and post-heating options, a recirculation damper, and BACnet compatible controls round out the new features.
All the new options are priced competitively and available in Selector™ – HRV/ERV, the Aldes selection software. For access to Selector, please contact Aldes or reach out to your local Aldes representative.