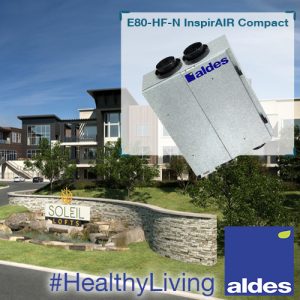 Soleil Lofts, a brand-new luxury eco-friendly apartment community located in Herriman, Utah is scheduled to open September 2019. The community utilizes clean energy by generating 75% of the energy onsite and offers state-of-the-art battery storage, plus back-up power in each apartment home. Among the amenities are a community garden, fitness center, yoga studio, on-site convenience store, and improved indoor air quality in each home with American Aldes InspirAIR® Compact (E80-HF-N) Energy Recovery Ventilator.
American Aldes multi-family line of HRV/ERV—InspirAIR® Compact—are sized just right for smaller living spaces like condos, apartments, or dorms, and, deliver between 80 and 130 CFM of fresh, filtered air. Our E80-HRG-N unit includes the first in-suite air exchanger to offer an automatic free cooling economizer function feature that saves energy by using cool outdoor air to help reduce the demand for air conditioning during spring and fall. The slim height of just 9" easily fits above suspended ceilings.
To learn about other projects where Aldes products have been installed, please visit American Aldes Featured Projects.