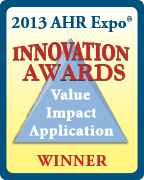 American Aldes' Zone Register Terminal (ZRT-2) received the 2013 AHR Expo Innovation Award for Ventilation. The ZRT-2 was also a finalist for the 2013 Product of the Year, which was chosen from among the 10 award winners and announced at the AHR Expo, January 28-30, 2013, in Dallas, TX.
The Innovation Awards recognize products that best help HVAC&R practitioners provide safer, healthier, more efficient and/or more comfortable environments. The annual competition is sponsored by ASHRAE, the Air-Conditioning, Heating, and Refrigeration Institute (AHRI) and the International Exposition Company (IEC). A first-place winner was named in 10 categories. Thirty-three products were awarded honorable mention. Entries were received and judged by panels of ASHRAE members. The criteria are innovation, application, value to the user and market impact.
The American Aldes ZRT-2 regulates each zone in a central exhaust and supply ventilation system without the need for individual fans or expensive controls. It can serve both low-flow IAQ ventilation or on-demand high-flow spot ventilation on a single central fan system. It is pressure independent, which means it automatically regulates airflow to compensate for fluctuations in duct pressure.
The ZRT-2 can be used in both commercial and residential applications, and it is suitable for new construction and retrofit projects. End users benefit from accurate ventilation, which directly correlates to energy savings and improved indoor air quality. The continuous low-flow regulator ensures that the space is neither over- nor under-ventilated, while the optional boost provides on-demand ventilation when the user requires it. Since the ZRT-2 operates so quietly, users will notice the fresh air – not a noisy fan. In residential applications, ZRT-2s can reduce the number of exterior vent penetrations.
The ZRT-2 introduces flexibility and dynamic control to central ventilation systems. With its grille, register box, control damper, and flow regulator(s), the ZRT-2 is a turnkey solution. It is available with 4″ or 6″ collars; it provides continuous low-flow ventilation of 10-60 CFM; and it is capable of providing boost ventilation ranging from 50-175 CFM. The product installs easily, requires little-to-no maintenance, and is a lasting, cost-effective solution.
Visit the ZRT-2 product page for more information.