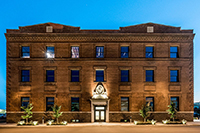 A century-old structure known as "Market One" in the historic Market District of Des Moines, Iowa became the state's first commercial net zero energy building in 2015 after a nearly $17 million renovation project which involved the addition of geothermal wells, over 780 solar panels, and high-efficiency mechanical systems. It includes an American Aldes energy recovery ventilator, SE4000i.
The Aldes SE4000i is among of the company's lineup of standard commercial energy recovery ventilators. In the heating season, heat recovery ventilators (HRV) and energy recovery ventilators (ERV) draw in fresh air from outside while stale, humid air is exhausted. As the fresh and stale airstreams pass though the unit's core, the fresh air is tempered with heat recovered from the exhaust air. In the cooling season, fresh outdoor air is cooled by the air-conditioned exhaust air. An ERV will also transfer moisture to improve comfort. This exchange reduces the cost to heat and cool the building while providing healthy indoor air quality.
Market One was originally designed as offices and manufacturing space in 1901, expanded in 1912 to add a third floor, gutted by a fire in 1918, and rebuilt in 1919. Market One is an adaptive reuse project that, as of 2015, includes 40,668 square-foot commercial space with 14 to 18-foot ceiling heights, a glass enclosed conference room on the roof and 3,000 square foot deck and shade canopy. MODUS Engineering, who spearheaded the renovation project, now uses it as its home base and a working example of energy-efficient design.
DPT Mechanical, who represents American Aldes ventilation products in Iowa, secured the sale for this project.
About American ALDES
American ALDES is the premier manufacturer of ventilation products and systems for homes, multi-family dwellings, hotels, schools and numerous other commercial applications. Products are designed for superior airflow control, energy-efficient performance, and a healthy indoor environment.
American ALDES is a based in Florida and is a subsidiary of the ALDES Group, an international, family-owned group of more than 1,300 employees and 17 subsidiaries in 13 countries.