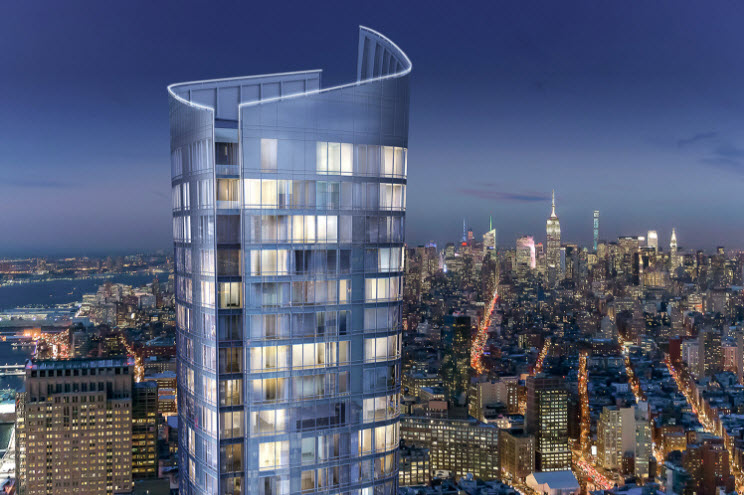 American Aldes has again partnered with A.D.E. Systems Inc. of New York, to secure the sale of ventilation products—Zone Register Terminals and Constant Airflow Regulators — for a new high-rise condominium along the New York City skyline. With its distinctive curved glass shape, 111 Murray Street is among the newest and most notable projects to date.
Aldes Zone Register Terminals (ZRTs) provide on-demand boost airflow, typically used in bathrooms and laundry rooms to exhaust humidity and odors.  When combined with the optional Constant Airflow Regulator (CAR) they can also be used for continuous low-volume airflow to maintain healthy indoor air. These ZRTs are frequently the preferred ventilation products for high-rise buildings such as apartments, condominiums and hotels.
The prestigious new condominium, designed by Kohn Pedersen Fox Associates, soars 800 feet with 157 residences priced between $2.5 million and $18.9 million. Residents have access to luxury pools, a fitness center, recreation room, a patisserie, spaces to entertain guests, and of course stunning views of the Manhattan skyline, New York Harbor, and the Hudson River. In a true nod to the level of affluence anticipated at these upscale luxury condominiums, 111 Murray also offers a concierge jet service.
A.D.E. Systems, Inc., the exclusive sales representative for American Aldes products in New York City secured the sale. "A.D.E. Systems has a solid understanding of our products and how they offer value and dependability to the customer while providing healthy indoor air quality," said Tom Heidel, National Sales Distribution Manager at American Aldes. "This is one of many high profile projects we've worked on with A.D.E. Systems over the years and they continue to be a strong partner in matching up customer needs with the best products for the job," said Heidel.
Other recent projects in which A.D.E and American Aldes have partnered include the Hilton Garden Inn on Park Avenue in Midtown New York, the RIU Plaza, 520 West 28th, the Visionaire Building, 50 West Street, 30 Park Place, 260 Park Avenue South, Greenwich Lane Complex, 313 West 37th Street, W57 Durst, 432 Park Avenue, The Enclave at Cathedral, One Riverside Park and dozens of other properties in New York City and New Jersey.
About American ALDES
American ALDES is the premier manufacturer of ventilation products and systems for homes, multi-family dwellings, hotels, schools and numerous other commercial applications. Products are designed for superior airflow control, energy-efficient performance, and a healthy indoor environment.
American ALDES is a based in Florida and is a subsidiary of the ALDES Group, an international, family-owned group of more than 1,300 employees and 17 subsidiaries in 13 countries.