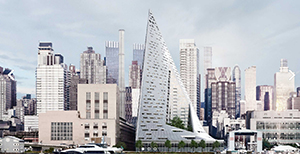 A new 34-story residential building, officially named VIA 57 West, in New York City sits near the Hudson River and is one of the most eye-catching projects American Aldes has been involved with in New York to date. The distinctive, tetrahedron-shaped building was completed in early 2016, developed by The Durst Organization and designed by Bjarkle Ingles Group, and includes several American Aldes products totaling more than 1,300 units.
The project includes Constant Airflow Regulators, Constant Exhaust Registers, Constant Supply Registers, Constant Supply Register Boxes, and Zone Register Terminals. Together, these products provide energy-efficient solutions that bring fresh outdoor air inside, reducing indoor pollutants and contributing significantly to a healthy indoor environment to the more than 700 apartments inside VIA 57 West.
Aldes representative A.D.E. in Lynbrook, New York—the leading manufacturer representative of HVAC products in the New York area—was key to bringing Aldes products to this innovative structure.
The Council on Tall Buildings and Urban Habitat recently awarded VIA 57 West the Best Tall Building Americas award, noting, "It has the compactness, density, and intimacy of a classic courtyard building with grandeur, airiness, and expansive views of a skyscraper. The building offers a unique vision for the future of the tall building: one that manages to synthesize high-quality and visually appealing architecture with the needs of the client, all without sacrificing environmental performance or residential quality."
"Aldes is proud to partner with A.D.E on this innovative project," said John Harrell, President of American Aldes located in Bradenton, Florida. "Aldes and A.D.E. have been partnering for many years to bring Aldes products into use in dozens of high-profile buildings in New York. We are pleased to have been a part of this project and look forward to many more," said Harrell.
American Aldes and A.D.E. Systems have teamed up on a number of projects in recent years in the New York and New Jersey areas, including the Hilton Garden Inn on Park Avenue in Midtown New York, the RIU Plaza, 520 West 28th, the Visionaire Building, 50 West Street, 30 Park Place, 260 Park Avenue South, Greenwich Lane Complex, 313 West 37th Street, 111 Murray, 432 Park Avenue, The Enclave at Cathedral, One Riverside Park and dozens of other properties in New York City and New Jersey.