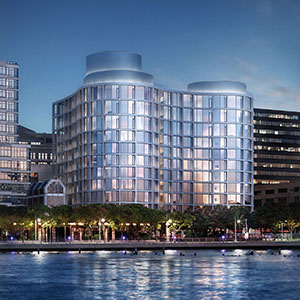 American Aldes has again partnered with A.D.E. Systems Inc. of New York, to secure the sale of ventilation products, Constant Airflow Regulators (CARs), for a new luxury condominium building, 160 Leroy in New York City's West Village. The prestigious new building, designed by Pritzker Architecture Prize winners Herzog & de Meuron, will house 57 one-of-a-kind residences starting at $2.4 million.
Each apartment home will have views of waterfront and/or the city from floor-to-ceiling windows. They'll include and a host of luxury features such as custom solid mahogany entry doors, custom-designed bathrooms with material palettes of natural stone and hand-selected wood, 11 to 13 foot ceilings, custom-designed lighting. All residences are prewired for audio-video, dimming and motorized shade systems. The building is expected to open in 2017.
Aldes Constant Airflow Regulators will be a part of the ventilation system. These devices automatically regulate airflow in duct systems to constant levels. The passive control element responds to duct pressure and requires no electric or pneumatic sensors or controls. The CAR compensates for changes in duct pressure caused by thermal stack effect and provides a low-cost solution to balancing forced-air systems, eliminating the need for on-site balancing. CARs are frequently specified for many different applications, including multi-family projects such as 160 Leroy.
Other recent projects in which A.D.E and American Aldes have partnered include the Hilton Garden Inn on Park Avenue in Midtown New York, the RIU Plaza, 520 West 28th, the Visionaire Building, 50 West Street, 30 Park Place, 260 Park Avenue South, Greenwich Lane Complex, 313 West 37th Street, W57 Durst, 432 Park Avenue, The Enclave at Cathedral, One Riverside Park, 111 Murray and dozens of other properties in New York City and New Jersey.
About American ALDES
American ALDES is the premier manufacturer of ventilation products and systems for homes, multi-family dwellings, hotels, schools and numerous other commercial applications. Products are designed for superior airflow control, energy-efficient performance, and a healthy indoor environment.
American ALDES is a based in Florida and is a subsidiary of the ALDES Group, an international, family-owned group of more than 1,300 employees and 17 subsidiaries in 13 countries.