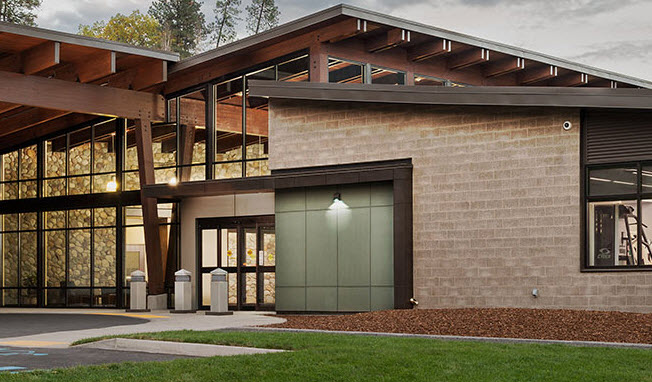 American Aldes Ventilation Corporation is no stranger to bringing indoor air quality solutions to hospitals, clinics and other medical facilities. Clearwater Valley Medical Center in Orofino, Idaho is ensuring employees, patients, and their families and friends all breathe healthy indoor air while saving on heating and cooling costs with an Aldes energy recovery ventilator.
The 20,000 square foot medical center, built in 2014 by Walker Construction and designed by NAC Architecture, features exam rooms, conference rooms, a classroom and a full physical therapy suite with locker rooms.
The modern new facility uses an Aldes CW3000e energy recovery ventilator (ERV) to reduce energy consumption by reducing the need to cool or heat outside air once it enters the building. In the heating season, these units draw in fresh air from outside while stale, humid air is exhausted. As the fresh and stale airstreams pass though the unit's core, the fresh air is tempered with heat recovered from the exhaust air. In the cooling season, fresh outdoor air is cooled by the air-conditioned exhaust air. An ERV will also transfer moisture to improve comfort. ERVs
Energy recovery ventilators are frequently used in residential, multi-family (such as apartments and condos), and commercial buildings to reduce the load on heating and cooling systems while providing fresh air to the indoors.
Other recent medical facilities projects that have used heat or energy recovery ventilators or other Aldes ventilation products include: St. Peter's Hospital Hearst Pavilion in Albany, NY; HealthSouth Rehab Hospital of Jonesboro, AR; Stevens County Hospital in Hugoton, KS; Northern Montana Hospital in Havre, MT; Acadia Montana Hospital in Butt, MT; Ashland Primary Care Clinic in Ashland, ME; and, for our furry friends, Savannah Animal Care in Savannah, Georgia.