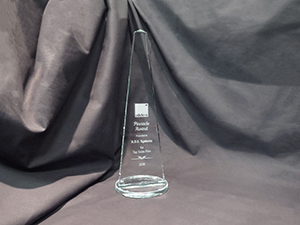 American Aldes Ventilation Corporation today announced the recipients of the company's annual awards for high performing sales teams for 2016. The company partners with HVAC manufacturer sales representatives across the nation to bring healthy indoor air to schools, homes, apartment buildings, hospitals, condominiums, hotels, retail environments, government facilities and more. The following five demonstrated particularly strong performance and earned the following awards:
A.D.E. Systems, Inc. of Lynbrook, New York earned the 2016 Pinnacle Award for Top Sales Firm. The firm secured a high volume of air product sales for developments in the New York City area, focused largely on multi-family buildings such as apartments and condominiums.
Havtech of Columbia, Maryland earned the 2016 Platinum Award for Sales Performance.
Long Building Technologies of Littleton, Colorado earned the 2016 Gold Award for Sales Performance.
Air Products Equipment of Elk Grove Village, Illinois earned the 2016 Silver Award for Sales Performance.
HTS Dallas of Carrollton, Texas earned the 2016 Gold Award for New Representative Performance. HTS signed on with American Aldes mid-way through the year and demonstrated a strong product and industry knowledge, resulting in a high volume of energy recovery ventilator sales.
Each awardee will receive a clear glass obelisk on a round glass base etched with the details of the award.
"We are pleased to recognize the hard work, dedication and expertise all of these sales representatives bring," said Tom Heidel, National Sales Distribution Manager for American Aldes. "They understand the needs of the customer and work closely with our sales and engineering experts to ensure the right Aldes products are specified and ordered for the job," said Heidel. "We appreciate their hard work in 2016 and look forward to continued success in 2017."
American Aldes is the premier manufacturer of ventilation products and systems for homes, multi-family dwellings, hotels, schools, and numerous other commercial applications. Products are designed for superior airflow control, energy-efficient performance, and a healthy indoor environment.
American Aldes is based in Florida and is a subsidiary of the ALDES Group, an international, family-owned group of more than 1,300 employees and 17 subsidiaries in 13 countries.