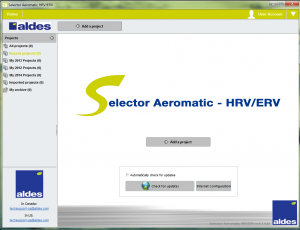 American Aldes is thrilled to announce that the new version of Aldes Selector HRV/ERV selection software (v.1.8.4.0.exe) is now available!
Selector  puts you in control
Selector  saves you time and money
Selector  makes it easy to select Aldes units and build equipment schedules
No more tediously comparing specification sheets or relying on factory support staff to help you choose the right model. You and your customers can now build unit selections based on your exact design conditions and specifications:  recovery type, airflow requirements, application, casing and configuration, defrost modes, motors and blowers, controls, custom options, and even heating/cooling coils. Selector generates the most suitable HRV/ERV for your project.
Selector is designed to streamline your workflow. All your selections are stored in the software for quick reference. You can easily copy selections for similar projects. Selector can also generate project schedules to show critical performance data for each unit. Selector allows you to send projects to colleagues and import shared projects directly into your software. All project information is neatly compiled for printing.
How do you get Selector?
Step 1:  Contact Aldes to pre-register for Selector. You will not be able to activate the software without a validated e-mail address.
Step 2: Download the software. Please note that it is an executable file (.exe) and is only accessible to PC users at this time. Contact Aldes if you experience trouble downloading.
Step 3:  Open the software and fill in your contact information. Enter your e-mail (it must be the same address you used to pre-register) and click the button marked "get registration key by e-mail". Do not close the software.
Step 4:  Check your e-mail to find the key. Return to the software and enter the registration key. Click "Key Validation" to activate your copy of the software.
Step 5:  Review the User's Manual that is available under "Tools" on the Resources page.