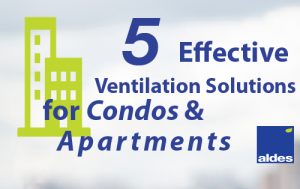 Shared walls, air balancing, energy efficiency, stack effect, changes in local code…engineers face these challenges and more when designing centralized ventilation systems for multi-family dwellings. It's no easy task to comply with codes and regulations, plus satisfy building owners and developers. American Aldes and our manufacturing representative partners have worked alongside engineers for nearly 35 years designing cost-effective solutions that are easy to integrate into designs, install, and maintain. Here's a look at five popular solutions from Aldes that'll help you design ventilation systems for apartments and condominiums without the headache.
If you're thinking that looks interesting, but how do I know it works well? Don't just take our word for it. Visit our project map to see a small sampling (and by that we mean hundreds!) of multi-family buildings across the nation that have recently installed these products and others.
Aldes has a full lineup of products for centralized systems, but if it's unitized/compartmentalized you're designing, we have cost effective, energy efficient systems for that too. In fact, we've got compact sized heat and energy recovery ventilators perfect for apartments or condos, and ENERGY STAR rated fan small enough to fit into tight spaces. Have look at these options at www.aldes-na.com/multifamily.